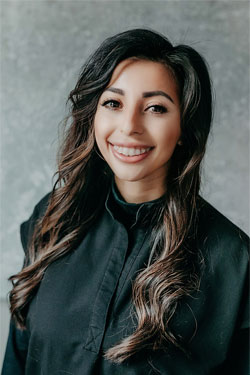 Amy
Surgical Assistant / Phlebotomist
Amy predominantly grew up in Bowling Green, KY where she graduated from Western Kentucky University. She has called Louisville, KY home since 2019. Amy has been in the dental field since 2016. She loves to attend CE courses to broaden her knowledge of the dental field, better educate patients, and help patients improve their oral health. Amy has an adventurous life outside of dentistry and enjoys mountain biking, hiking, and outdoor reading with her boyfriend, Dillon, and her dog, Roush.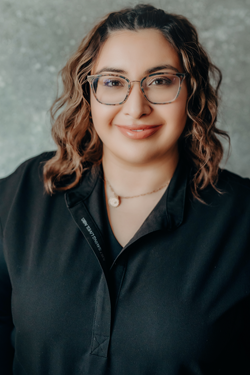 Joeliz Veras
Expanded Duties Dental Assistant
Joeliz was born in Boston and loves to go back and visit her family every year, especially in the fall. Even though she has 3 brothers, she doesn't let them boss her around! Joeliz has lived in Kentucky since 2006 and graduated from University of Louisville. She prides herself in being a loving mother and wife to her husband and son, who keeps her busy with all his sporting events. She enjoys baking, turning pottery, traveling and hopes to visit Greece one day. Joeliz joined the TCD family in August of 2021 but has been in dentistry since 2011. She says she was drawn to TCD because of the family atmosphere and how genuine everyone is towards each other and patients.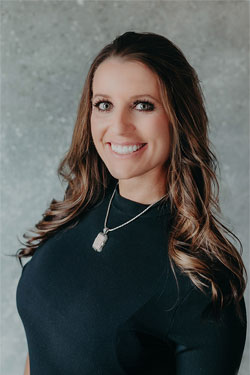 Christelle
Practice Manager
Christelle was born and raised in south Texas. After graduating from Centre College, she moved to Louisville and began teaching at a local Catholic school. She has been in dentistry now since 2010 and began working at Louisville Dental Implants in the summer of 2015. Even though Christelle's entire family lives in Texas, she does have a Kentucky family that she loves and adores. Christelle and Joel were married in Jamaica on New Year's Eve in 2018 and has 3 amazing stepdaughters. Christelle played volleyball at Centre College and has coached at local schools and at MAVA. She has been a contestant on Wheel of Fortune and made it through the first 2 rounds of MasterChef tryouts.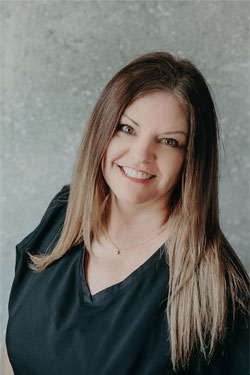 Ginger
Schedule Coordinator
Ginger was born in Ashland, KY and moved to Louisville in 1989 after attending Morehead State University. She has been in dentistry since 1992 and started at Louisville Dental Implants in April of 2019. Ginger has a wonderful husband, Todd, and 2 amazing children, Ethan and Emma. She loves attending sporting events (UofL and UK!), traveling with her daughter's cheer team, and spending time with her friends and family. Ginger has embraced her nickname "Gingy" and will greet you with a sweet smile. She loves being a part of such an enthusiastic team with cutting edge technology to better serve our patients.